Swati LaPerre in Middle Class Anxiety.
JoJo Ginn in Moving Day by Jenny King.
Alison Tippins in Fuddy Meers.
Hi, I'm Nathan Markiewicz.
Thanks for stopping by to have a look at some of my work. I'm an experienced director with eclectic tastes in theatre, film and multimedia. I'm interested in all kinds of performing arts, with expertise in new play development, devising, Shakespeare, Brecht and 19th century naturalism.
Josh Raff in The Reverend JEAU's Revival.
Euan Forsyth, Cameron Moore and David Pitt in The Fix, by Anna Forsyth.
Erich England and Phillip J. Berns in The Tempest.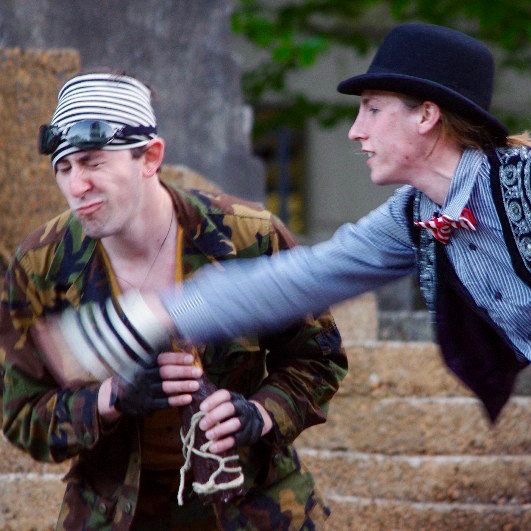 I care about the work of actors and performers, and helping individuals to achieve their own best performance while engaging with complex and nuanced material.
Recent New York directing credits include Moving Day by Jenny King for the Barrington Collective, and The Reverend JEAU, a solo musical comedy starring rapper/storyteller Josh Raff, which had an extended run in NYC and toured to the Hollywood Fringe Festival. Josh and I are collaborating again in 2019 with his new solo show, Love-Love, playing Under St. Marks this Fall (tickets here).
He knows that the first (and last) job of the director is to help actors and he shows focus, understanding, and respect in the rehearsal room. But he also has real steel and, like the best directors, know when to insist on his vision.
I started translating and adapting plays in 2015, staging an original production of August Strindberg's Creditors as a part of my M.F.A. dissertation. In 2017, I directed my own adaptations of short plays by Chekhov, Strindberg and Schnitzler, titled Middle Class Anxiety. I continue to develop my process with an eye toward approaching the classic plays as one might a contemporary work, and currently I'm completing a draft of Henrik Ibsen's Rosmersholm.
I am also an experienced assistant director and dramaturg, and protégée of acclaimed British director Stephen Unwin, whom I've assisted numerous times, notably on a UK tour of A View from the Bridge. I've also worked for directors John Haidar, Ben Crystal and Matthew Lloyd. In 2019, I was the assistant director and dramaturg for Ethan McSweeney's production of All Our Children at The Sheen Center in New York City.
John Glover, Karl Kenzler, and Sam Lilja in All Our Children directed by Ethan McSweeney, The Sheen Center, NYC (© Maria Baranova).
Evanna Lynch and Collin Campbell in Disco Pigs directed by John Haidar, Irish Repertory Theatre, NYC.
Jonathan Guy Lewis and Theresa Banham in A View From the Bridge directed by Stephen Unwin, UK Tour.
I hold a Master of Fine Arts in Directing from East 15, University of Essex, and a Bachelor of Fine Arts in Acting from the University of Colorado, Boulder.
In 2014 I spent a term studying Chekhov and Stanislavski at GITIS, The Russian University of Theatre Arts in Moscow. While completing my M.F.A. in London, I directed two premiers: The Fix, for the Camden Fringe Festival, and Stella Europa, a play about the rise of right-wing extremism in European politics.
I have always followed developing technologies on stage and off, and continue to experiment with film and multimedia. In 2017, my Super-8 short film, Liberty and the Pursuit, was selected for the Straight8 Film Festival in London, and I'm currently pursuing the storytelling possibilities of virtual reality and 360º cinema.
He has a wonderful ability to break complicated matters into easily digestible pieces, and I've seen him nurture students of all ages.
I am available for audition preparation and private acting lessons and script consultation. I'm prepared to direct and teach internationally.
Thanks again for visiting, and please don't hesitate to check out my CV, send me a message or just connect with me on social media—I look forward to talking about our next collaboration!
ALL THE BEST,
N